Content is the key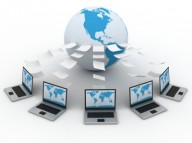 Content is the core of a business website. iXore Content Management System provides an efficient, cost-effective and powerful way to create and manage information for Internet portals, web applications, intranets and/or extranets for small or large enterprise web initiatives.
iXore's Content Management System offers a complete set of features; for content contribution and delivery, site development and enterprise site management to enable businesses to effectively create, deploy and manage Internet, Intranet and Extranet Websites. It allows non-technical users to manage all aspects of a website or group of websites. The system is a unique solution offering easy-to-use publishing tools for an entire organization from web developers to business users. iXore's Content Management System enables companies to quickly and efficiently build, deploy and maintain content rich websites reducing the cost for site creation and maintenance. It enables business users to manage their own content while at the same time provides control of content published to the website.
Businesses who use it are happy to have chosen it because it allows them to break the limits of the Web. Some of them are Le Syndicat des enseignants de la Chaudière (www.seccsq.com), Le Syndicat des enseignants des Deux Rives (www.sedrcsq.org), Le Parc Commémoratif Chaudière-Appalaches (www.parccommemoratifca.com) and Permutation (www.permutation.ca).
FEATURES AND FONCTIONALIY

Security

Allow the creation of users and groups of users by the webmaster. Each user and group have their rights (access, add, modify, delete) on site pages. The system permits to interact only with elements a user have the right to see. The login page gives tools to remind login informations by email, to allow visitors to create their own account and to manage it once logged in.

Statistic

Allow statistics consultation over a period of time via graphics. Its also possible to view detailed logs of each visitors.


Multi-Lingual

The system supports multiple languages, allowing for easy management of multilingual content and media throughout the site.

Menu

Allow to visually manage website menus via drag and drop. Menu items can link to any web url or to dynamicly created pages that can then be edited.

Page Editing

Allow to edit the website pages with a Word-like editor. Each language is shown so you can easely translate from one to another. Also permit META tags edition for search engines to index.

Dynamic links

Allow to manage keywords that will link to a web page. For example, each time the word "product" is present in the text it could be transformed into a link to the product section of your site


System documentation

Allow to consult the user guide. It explain the features of modules with screenshots.
iXore lets you choose from many reliable modules. We offer you modules with standard appearance and features but they are customizable to fit your specific needs. We can also create your own personnalized module.
Search

Search tool similar to Google allowing to find a specific item of the site. The site is often reindexed to show the most up-to-date results.

Mailing List

Allow to get visitors email if they want to receive news from you. It also informs you if users went from your message to your website. It is a good tool to keep your customers informed and to convert visitors into new customers.


News

Allow to add news to your website that can be written in advance and published when you want to. They can be archived by year, month or categories. You can also add images and attach files.

Porte-folio

Allow to publish the company achievements with photos and description.

Contact

Show the company's coordinates and locate it on a mini Google map integrated to the website. Also shows a form allowing visitors to contact you without publishing your email to protect it from spam.

Send to a friend

Allow to add "send to a friend" links to different places in the website. Those kind of links help to make your business known.


Comments

Get comments from your visitors. It can be linked to almost any other module.

FAQ (Frequently Asked Questions)

Allow to publish a list of questions and answers that are often asked so you can inform your visitors.

Files

Allow to easily exchange files with users of your system: direction team, employees, colaborators, customers or suppliers. The web interface gives a simple and secure way to share your files.


Photo Gallery

Allow to publish, to document and manage your photos on the web.

Links Page

Allow to publish and manage links to other websites.

Minutes

Allow to publish minutes of your business or organism so users can download them. The security module allows you to mange the access to it.

Site Plan

Show the plan of your website so visitors can have an overview of the content.

Slide Show

Allow to publish your photo in a different way, automaticly going from one to an other. The visitor can choose the delay between each image.


Survey

Allow to create online surveys by adding questions and choosing the type of answers allowed. The results are automaticly compiled.